MaintenoAR
Visualise your data. Streamline your management.
Mainteno Analytical Reporting (MaintenoAR) is an innovative data visualisation tool designed to enhance your ability to manage your maintenence operation. With a beautifully simple interface and working seamlessly with the award winning Mainteno System, MaintenoAR offers multiple ways for you to stay in control. Whether you need to monitor day-to-day activities, track management KPIs, achieve compliance or even evaluate contractor performance, MaintenoAR puts all of this (and more) at your finger tips.
Furthermore, the mobile-ready interface allows you to stay connected to your data using your smart phone or tablet so you can manage on the move and react to issues on the go.

At your finger-tips
For busy managers, being able to visualise data about your operation is one thing. Being able to interact with it is another. MaintenoAR is designed to help you do both.
Our innovative visualisation sections start by providing you the key information you're interested in but as you click to explore, Smart Filtering helps you hone in on the detail that matters and ask your own questions of the data. All with a just a few, easy clicks.
It adds up to a faster, smarter way of managing maintenance.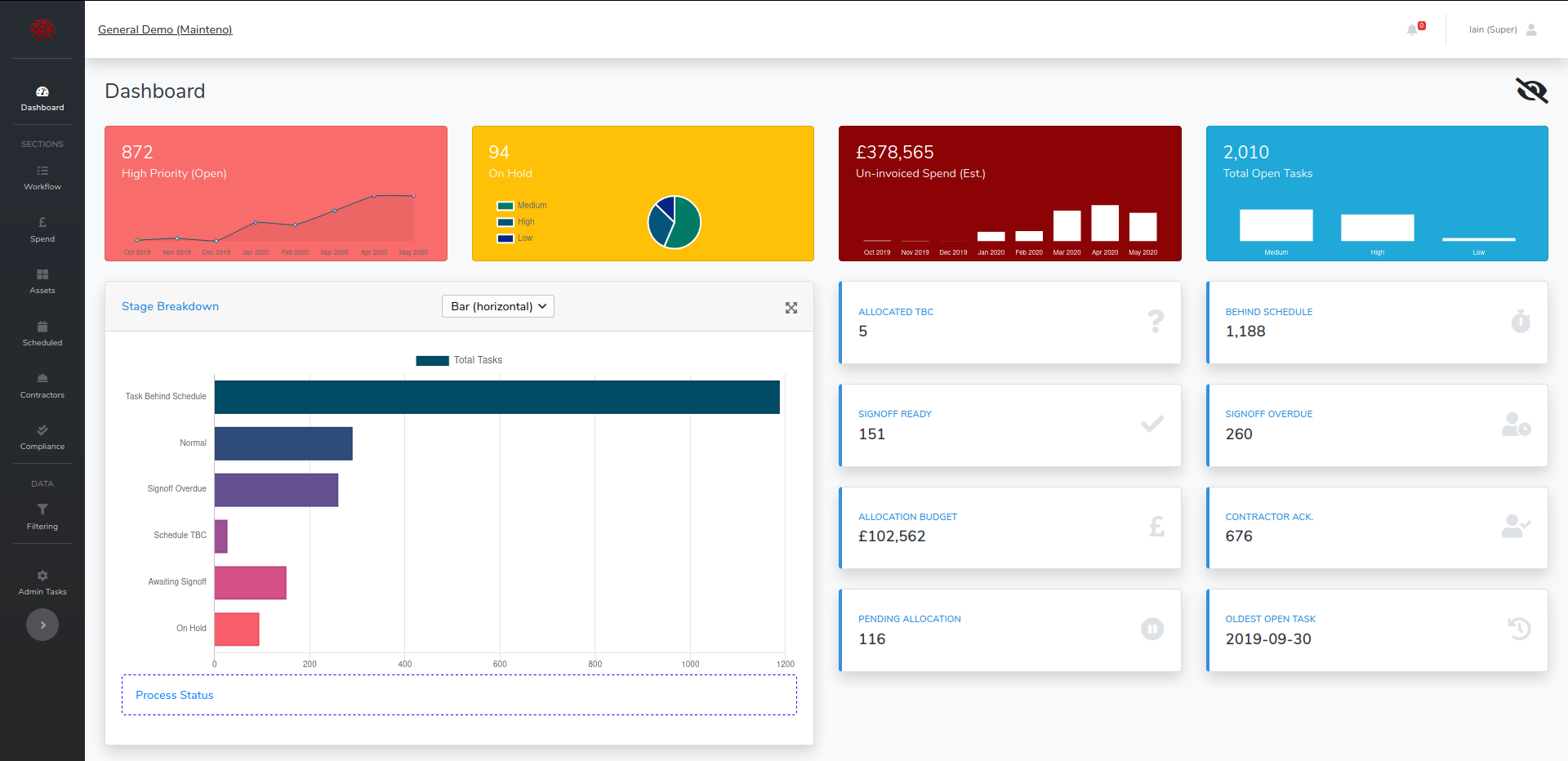 Task monitoring
Staying on top of active tasks is critial in order to maintain control. MaintenoAR makes it easy to monitor the current status of all active tasks across your organisation so you can understand workload, spot hold-ups and chase tasks breaching SLAs
In moments, you can get to the detail of your active task portfolio and understand their status such as pending allocation, awaiting sign off, behind schedule and so on. When you need to dig a bit deeper – for example, into those tasks that are past their sign-off SLA – the system provides individual task detail with a link back to the master task in Mainteno itself.
Of course, Smart Filtering is available to let you customise your view of the data by location, task category, dates, contractor and much much more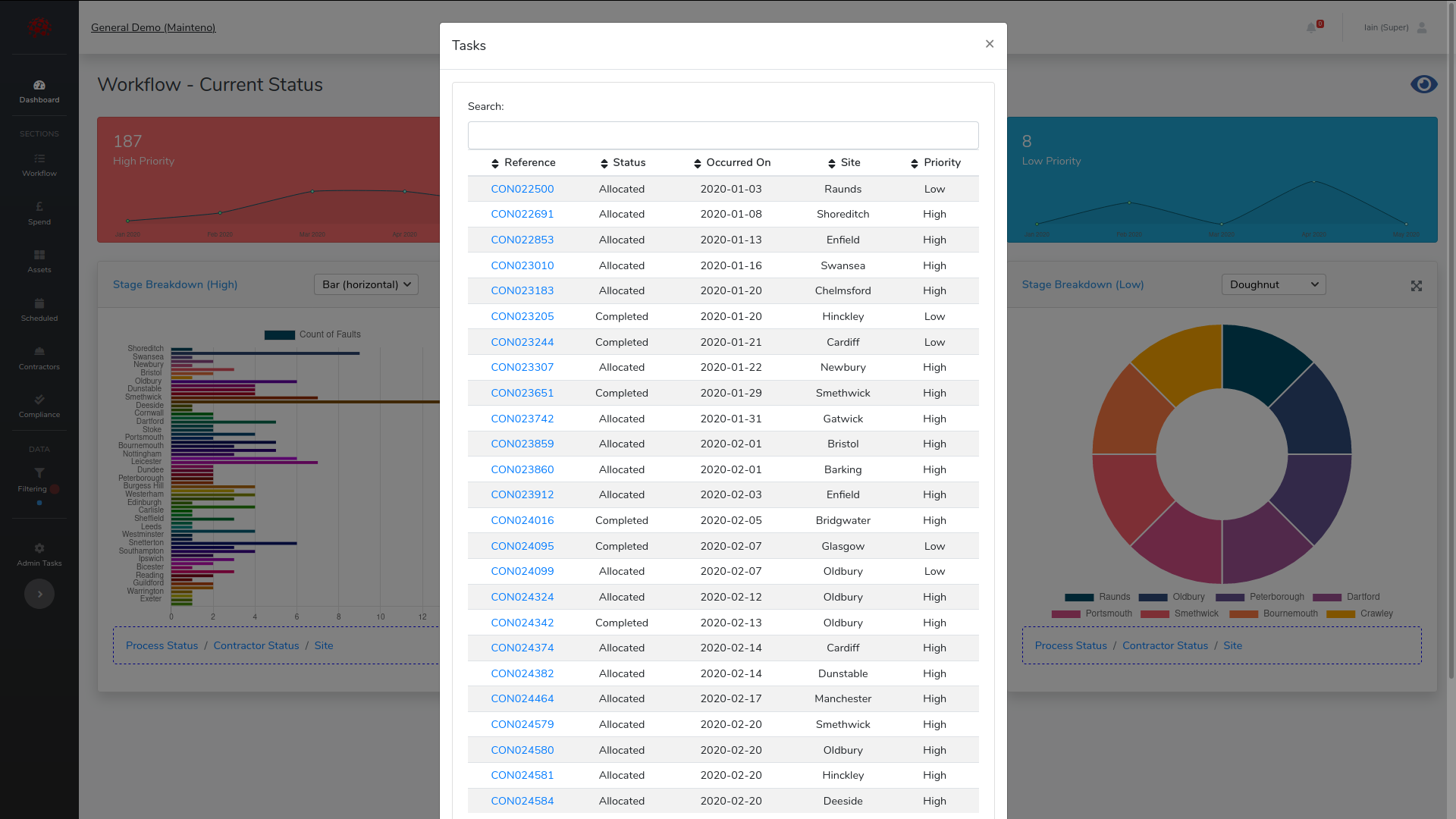 Spend and trends
In addition to operational control, MaintenoAR is also designed to provide effective cost analysis and management.
With several focussed sections, it is easy to see top-level financial KPI's, such as Year to Date and Month to Date spend, but also view future spend and explore where those costs fall. This critical insight can inform the decision-making process, allowing organiations to achieve higher-quality maintenance at lower costs.
Additionally, historic spend trends provide a great way to understand how your operation is evolving and makes reporting to a Finance department a breeze.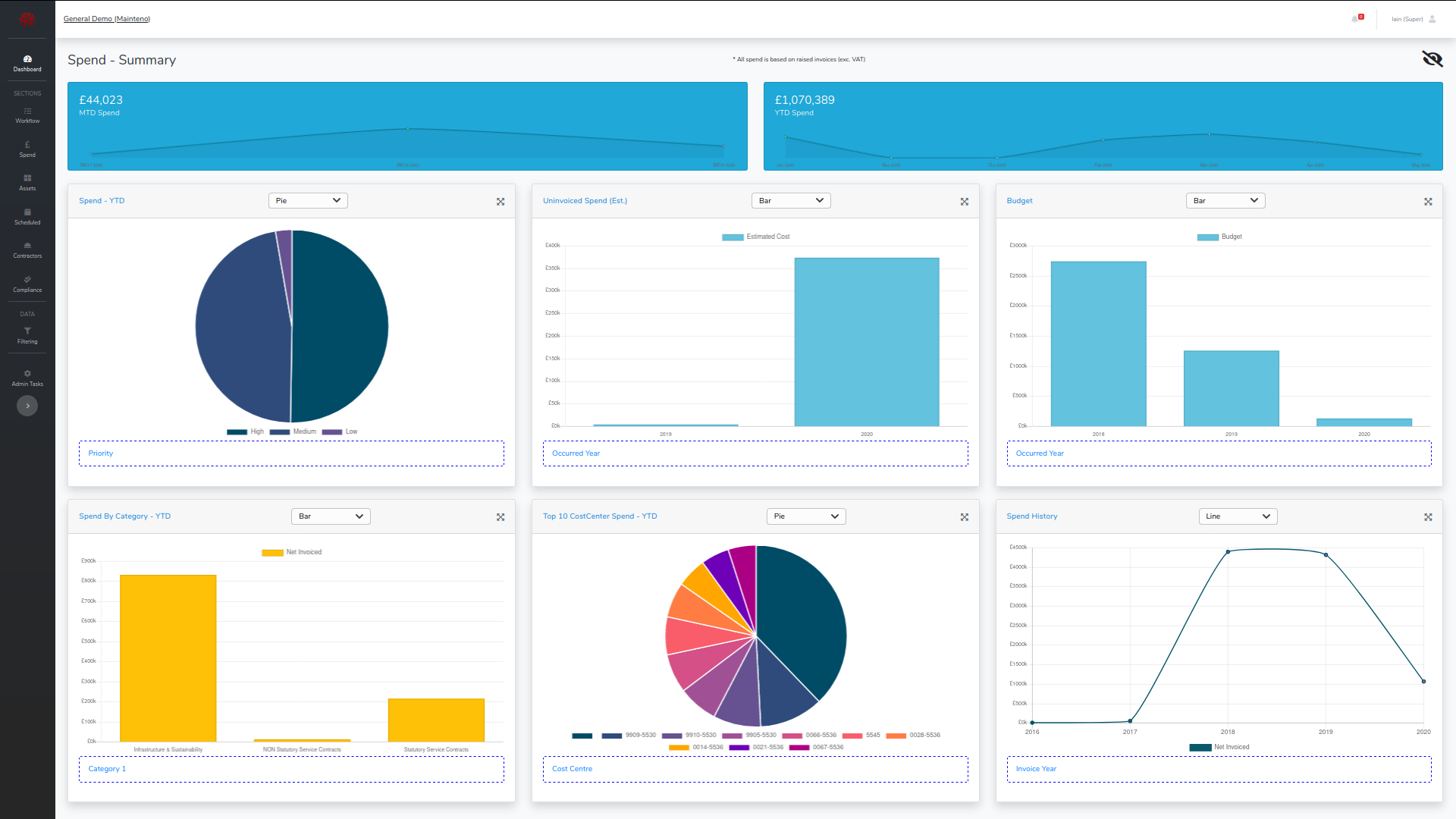 Performance management
Supporting your facilities management is an array of third-party contractors who you heavily depend on. As such, ensuring your contractors provide a cost effective and timely service is critial and MaintenoAR is ready to assist.
With the ability to view contractor rankings or focus on a provider using the Contractor Performance Card, identifying when service is being provided as expected – and of course, when it is not – has never been easier.
The strategic advantage that this insight provides during contract negotiations will drive your providers to deliver for your business.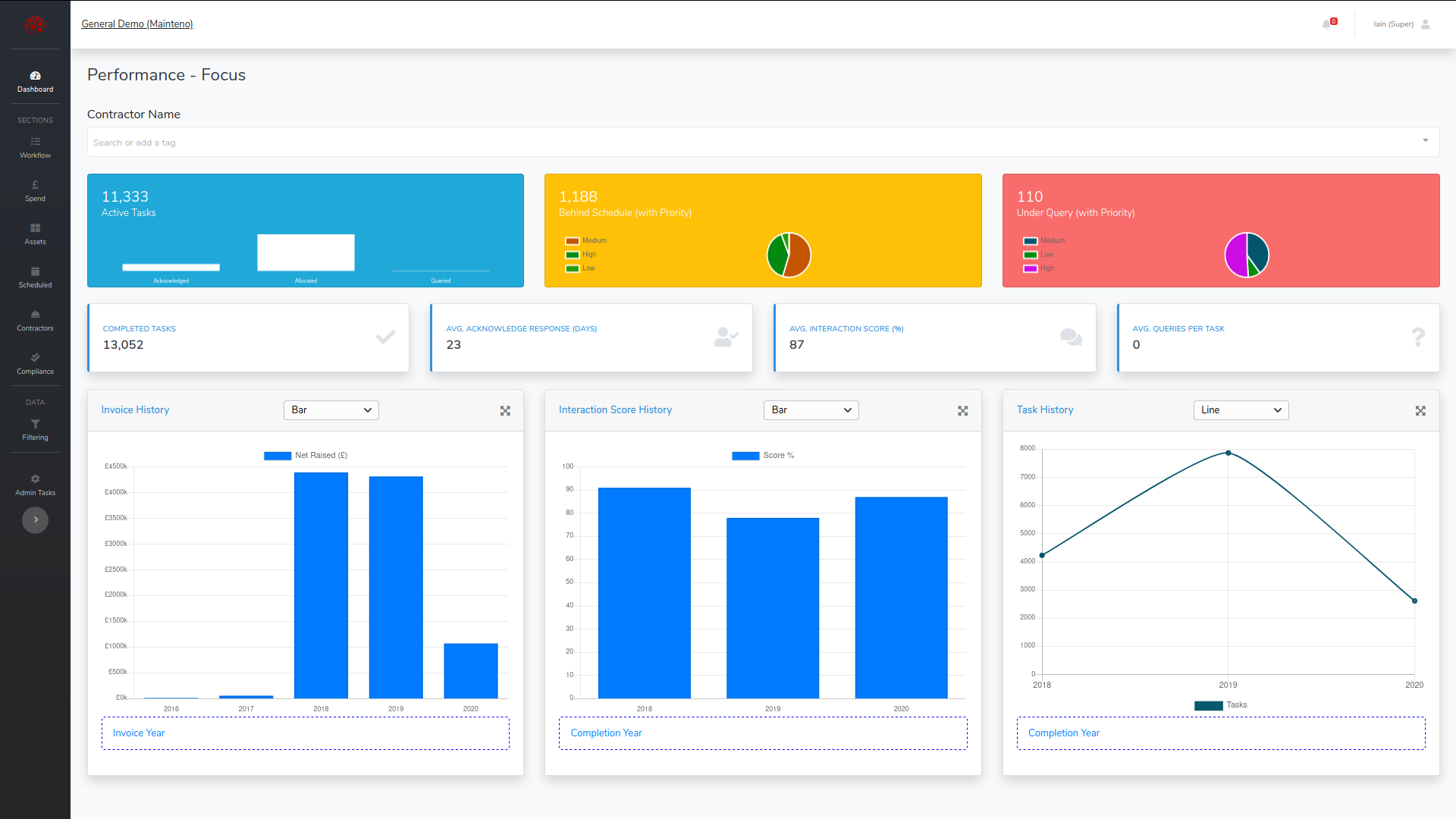 Plan around upcoming demand
Maintenance can never be completely predictable, but MaintenoAR lets you spot the trends and plan ahead.
For example, MaintenoAR makes it simple to view all of the forthcoming PPM and scheduled tasks. Graphs show when peaks will occur and the ability to explore task types or locations will allow you to manage your resources effectively.
You can also explore costs for a particular period, facilitating the budgeting process or maybe just give your Contractor a nudge to ensure they are primed to deliver for you.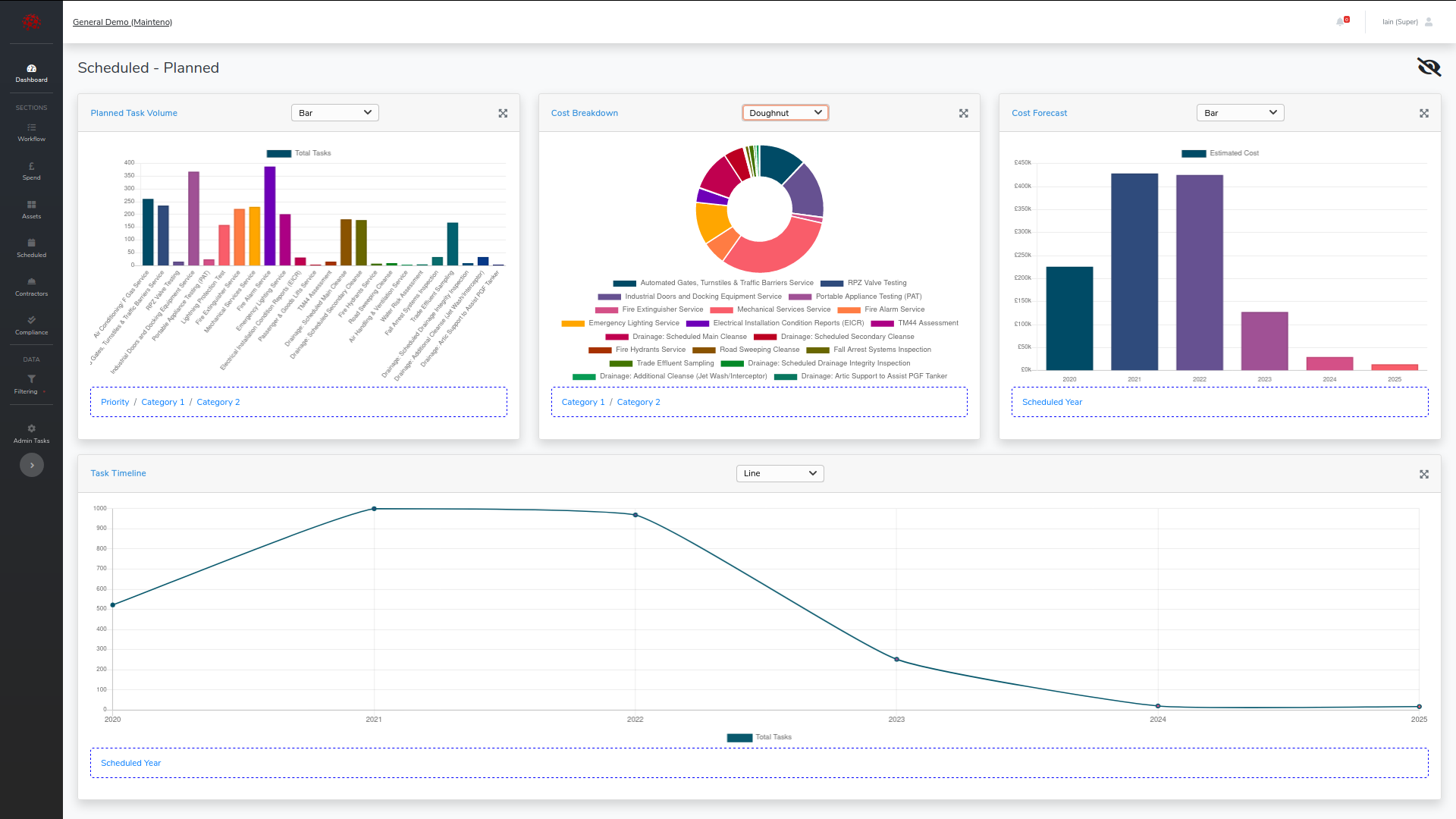 Smart Filtering
Focusing on the data you do need means filtering out all the noise that you don't want.
Traditional filtering let you do this, but with MaintenoAR, Smart Filtering allows you to interact with the visual objects in a natural way, removing the need for the excessive drop-down filtering of the past.
The rapid response to your selections means you can very quickly navigate through your data but you can also be confident your selections come with you as you switch from one section to another or explore detail data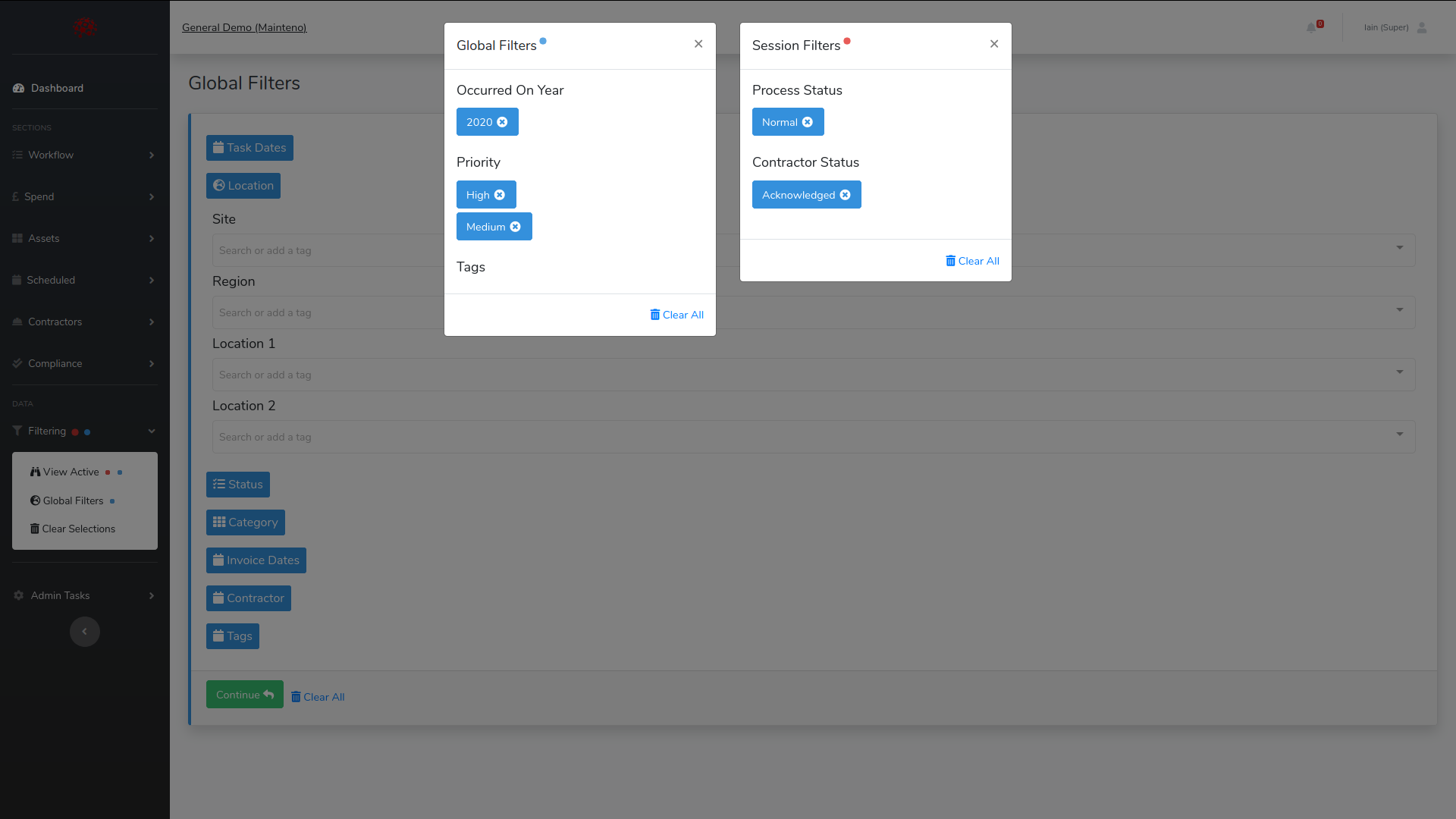 Alerts and notifications
Even with MaintenoAR's help, there are only so many hours in a working day. We understand that it's not always realistic to monitor every single aspect of a complex organisation. That's why we added alerts and notifications to MaintenoAR. They're designed to help you tackle a potential problem before it starts.
For example, you might want MaintenoAR to let you know when high priority tasks are building up, or if there have been too many SLA breaches. Just choose your areas of concern, set the thresholds for sending an alert… and relax. It's one more job that MaintenoAR is taking care of, freeing up your time and attention.