The System
The complete, award-winning solution to managing maintenance and tracking assets.
Access Mainteno by any wifi/internet connected device. Interact through an intuitive, simple interface. Adapt to your changing needs with straightforward drag-and-drop options.

Managing maintenance
Mainteno offers a complete CMMS (Computerised Maintenance Management System) and CAFM (Computer Aided Facilities Management) solution for organisations.
One popular application of Mainteno is to provide a complete solution for maintaining assets, including scheduled maintenance and fault repair.
Mainteno allows all information relevant to task maintenance and assets to be accessed through one central system. Messages, schedules, time estimates and time spent, persons responsible, costs and so on can all be retrieved with a click of the mouse or touch on the screen.
In addition, our 'time slip' feature allows you to keep track of your contractors' hours and analyse their performance, as well as setting your own compliance questions for their visits (e.g. completing specific risk assessments).

Scheduled Maintenance
Planned Preventative Maintenance (PPM) forms an important part of many organisations' maintenance program. Relevant health and safety regulations may demand certain sorts of PPM and organisations may be in breach of the law if it is not carried out. PAT testing of electrical equipment is one example. In addition, equipment manufacturers may void warranties if service schedules are not adhered to.
A common problem for managers is how to tracking PPM for different assets, with varying maintenance intervals, across multiple sites. Mainteno eliminates these problems at a stroke. Our system streamlines every aspect of managing PPM. For example, the system automatically informs all relevant parties – including in house maintenance teams and contractors – when an asset is due for servicing or testing.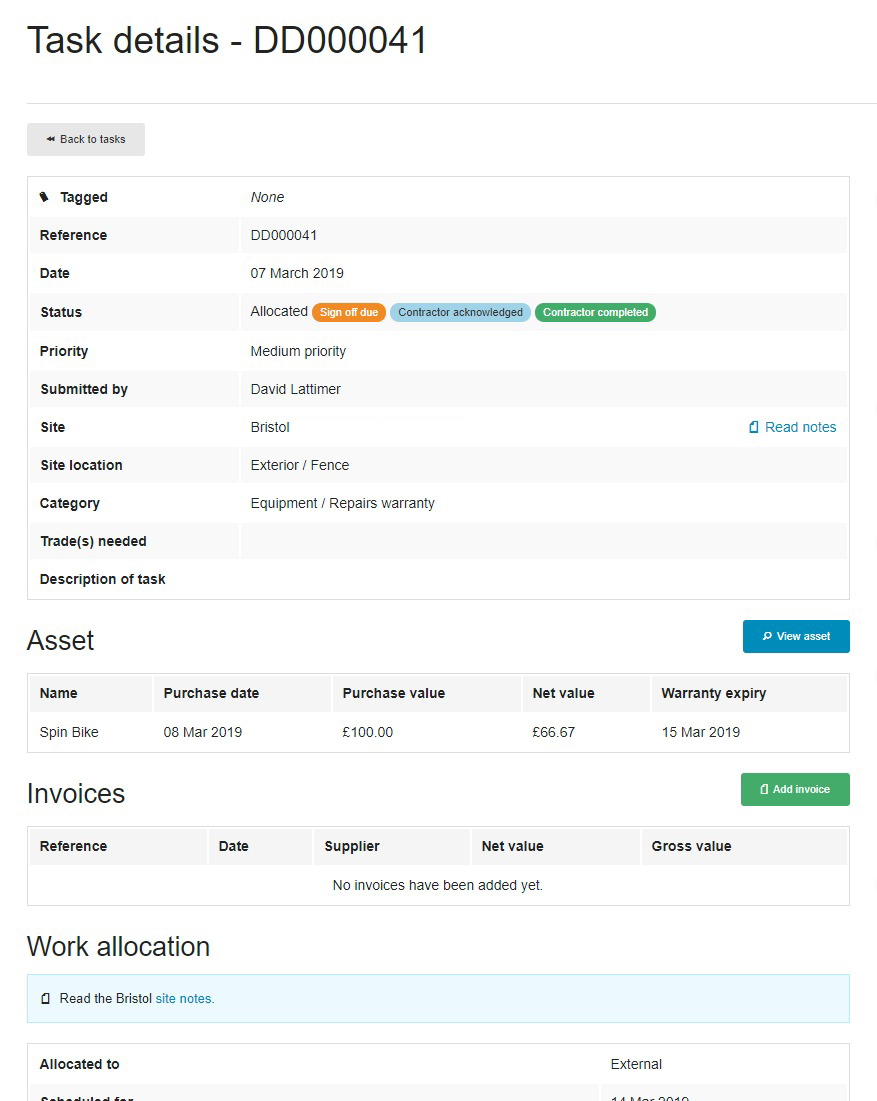 Fault Repair
Fault repair is greatly simplified using the Mainteno system. When a fault is identified, any designated user of Mainteno can report it quickly using a mobile phone, tablet or computer. The interface has been designed to be straightforward, and the system works on every common operating system.
When recording the fault, it's easy to attach multiple photos and/or text, allowing the problem to be described accurately. Once the fault has been raised, Mainteno forwards a message to the appropriate manager, who will allocate the task accordingly. Alternatively, Mainteno can automatically alert in-house maintenance or external contractors.
When the fault is dealt with, users can capture signatures, certificates and photos of the repaired item. Mainteno therefore allows tracking of all stages of the process, including communication between the different parties. This means that organisations have an easily accessible record, from first raising the fault to effecting the repair.
Mainteno spells an end to hunting through emails to find the paper trail associated with a repair. This is especially valuable to organisations vulnerable to litigation, where it is essential to know an accurate timeline for maintenance.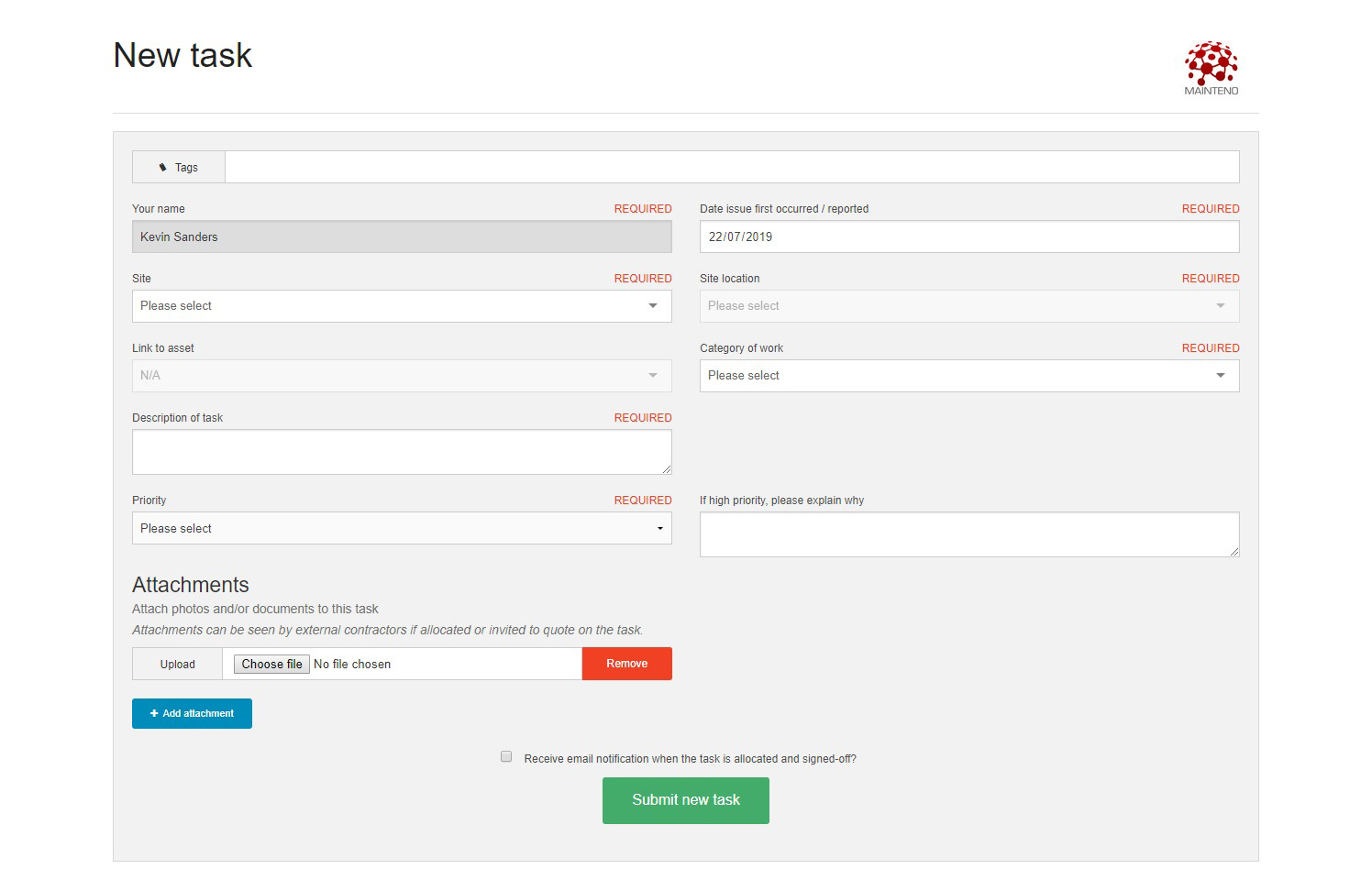 Asset tracking and management
Mainteno employs a fully integrated asset tracking system, working seamlessly alongside the task management interface. Whether your organisation operates from a single location or hundreds, Mainteno gives you a complete and instantly available record of every single asset.
Users can see at a glance the item's initial purchase price, its remaining expected life, how often it has been repaired, the total cost of those repairs and so on. This information is invaluable for scheduling replacements, or deciding if it is cost-effective to repair an item again.
With readily available information on reliability and costs of maintenance, organisations have all the data they need to inform their next round of buying decisions. For efficient asset record-keeping, Mainteno allows easy access to photographs, asset location and values, certificates, warranties and receipts.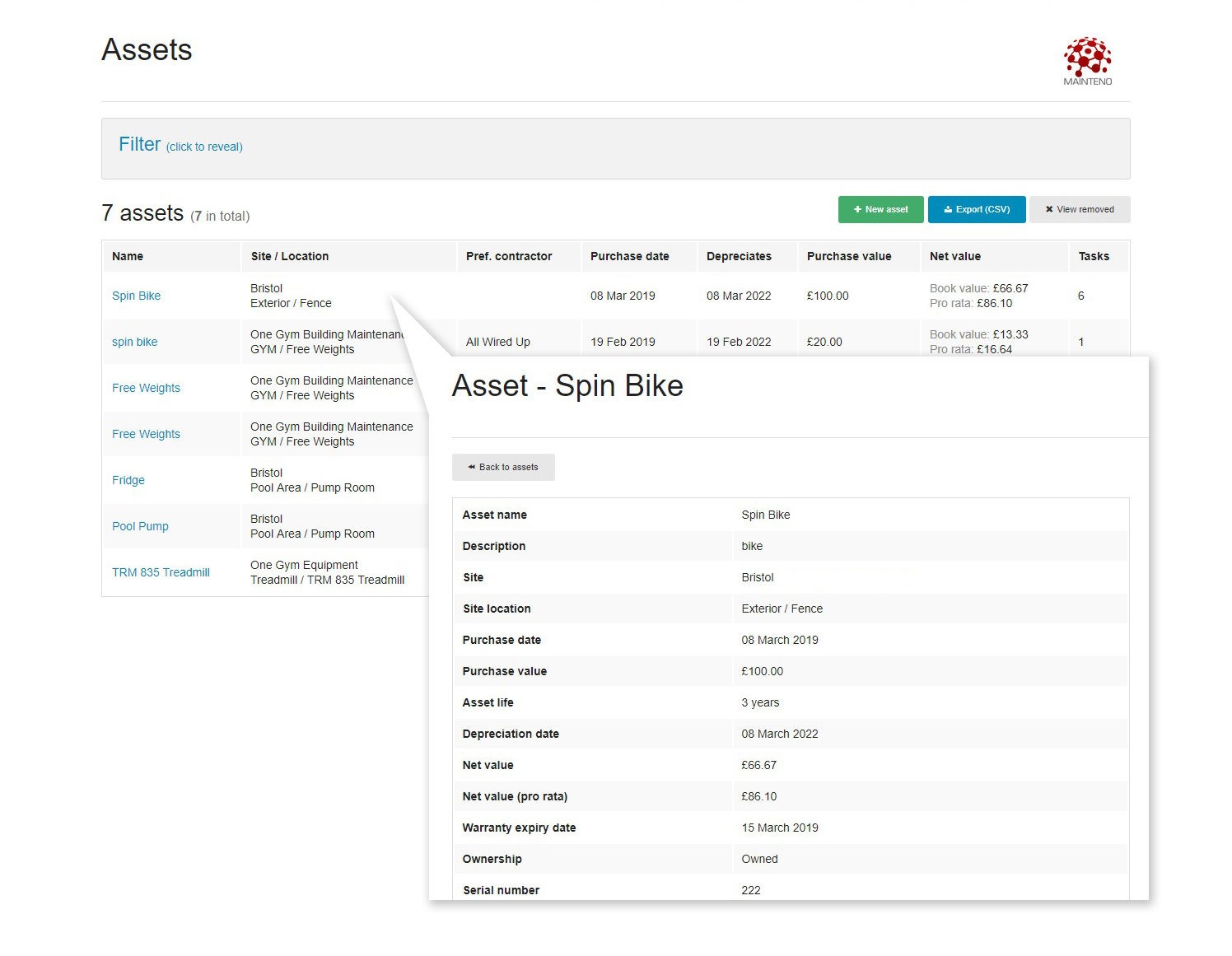 General Task Management
Although designed as the perfect maintenance management system, Mainteno is so adaptable that it can be utilised for more general task management.
Our clients quickly discovered that Mainteno works as a powerful daily task management system. Using our software in the day-to-day running of their business, organisations have found that their efficiency improves significantly. Managers and staff work with improved communication, increasing their productivity and lowering stress.
Once Mainteno is set up, any authorised user can initiate a new task. Managers can then allocate the task, set estimated times for completion, deadlines, attach relevant information (such as passwords, email addresses and documentation), send messages to relevant personnel and so on.
Research indicates that in most organisations, a considerable proportion of staff time is spent searching for relevant information required for task. Using Mainteno can substantially reduce this wastage, because all documentation is kept in one location. Likewise, using one system to discuss, comment on and annotate tasks makes sharing information more efficient – it spells an end to trawling through dozens of emails.
Managers using Mainteno look forward to simpler and more productive working days. Once all the tasks they oversee are scheduled within the system, prioritising and allocating work becomes straightforward. Mainteno's tracking facility also gives managers an accurate picture of the time and money that have currently spent on a project. Naturally, the software can be configured to trigger alerts, so that important deadlines are never missed again.
For the ultimate in flexible working, Mainteno's cloud-based technology means tasks can be managed and updated from any location with internet or mobile access.

Creating Checklists
Many repair or regular maintenance jobs have multiple components, and this can create challenges for managing the process. For example, a regular toilet maintenance schedule might include cleaning, replacing toilet rolls, checking for faults and so on. Individually monitoring each component can add unnecessary back-and-forth messages that consume valuable time.
Mainteno facilitates the monitoring and management of these sort of jobs. Managers can quickly create checklists of tasks for contractors to work through systematically — particularly useful when new or substitute staff are involved. And because each task is date-stamped when it's completed, Mainteno allows managers to check whether tasks are being completed within an appropriate time-frame.
Of course, a key part of any manager's role is to classify and prioritise tasks, and to communicate these priorities to staff. Mainteno makes this quick and easy with its intuitive traffic light system. With one click, managers can colour code tasks to indicate their status — giving a simple, at-a-glance reference for anyone using the system.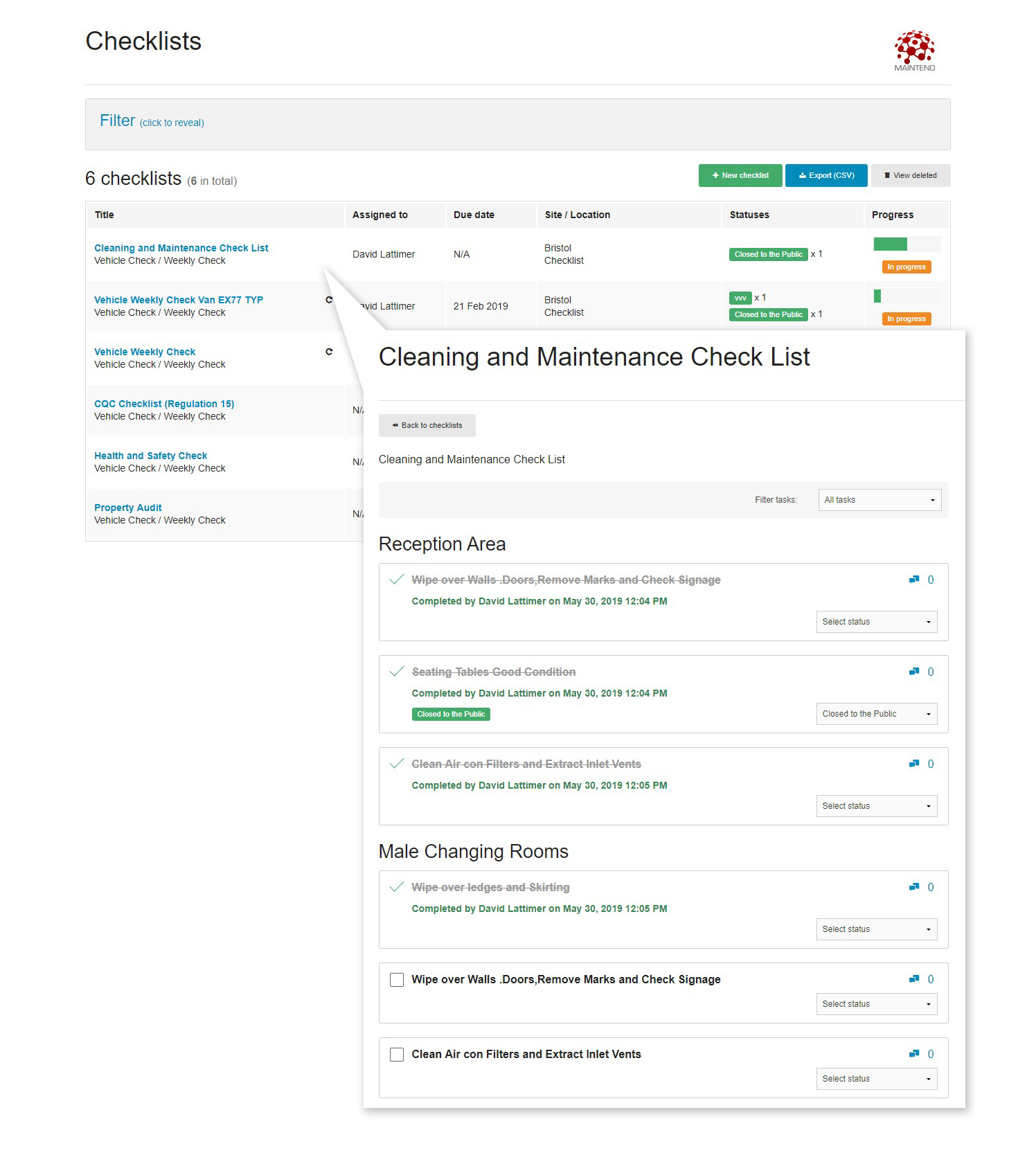 Invoicing
Mainteno's invoicing system streamlines and simplifies all aspects of payment.
Contractors can easily send invoices using the straightforward Mainteno interface. Once received, all of an organisation's maintenance invoices are conveniently stored in one location – putting an end to hunting through email chains or paper documents. And because Mainteno is a cloud-based system, all this is accessible for managers in the office, on the move, or when working from home.
The invoicing system integrates fully with the rest of the Mainteno suite, allowing managers and contractors to track the job through to payment. This innovative system significantly reduces the potential for disputes over work: both the contractor and the client can see at a glance the 'paper trail' associated with a job, as well as any photos taken.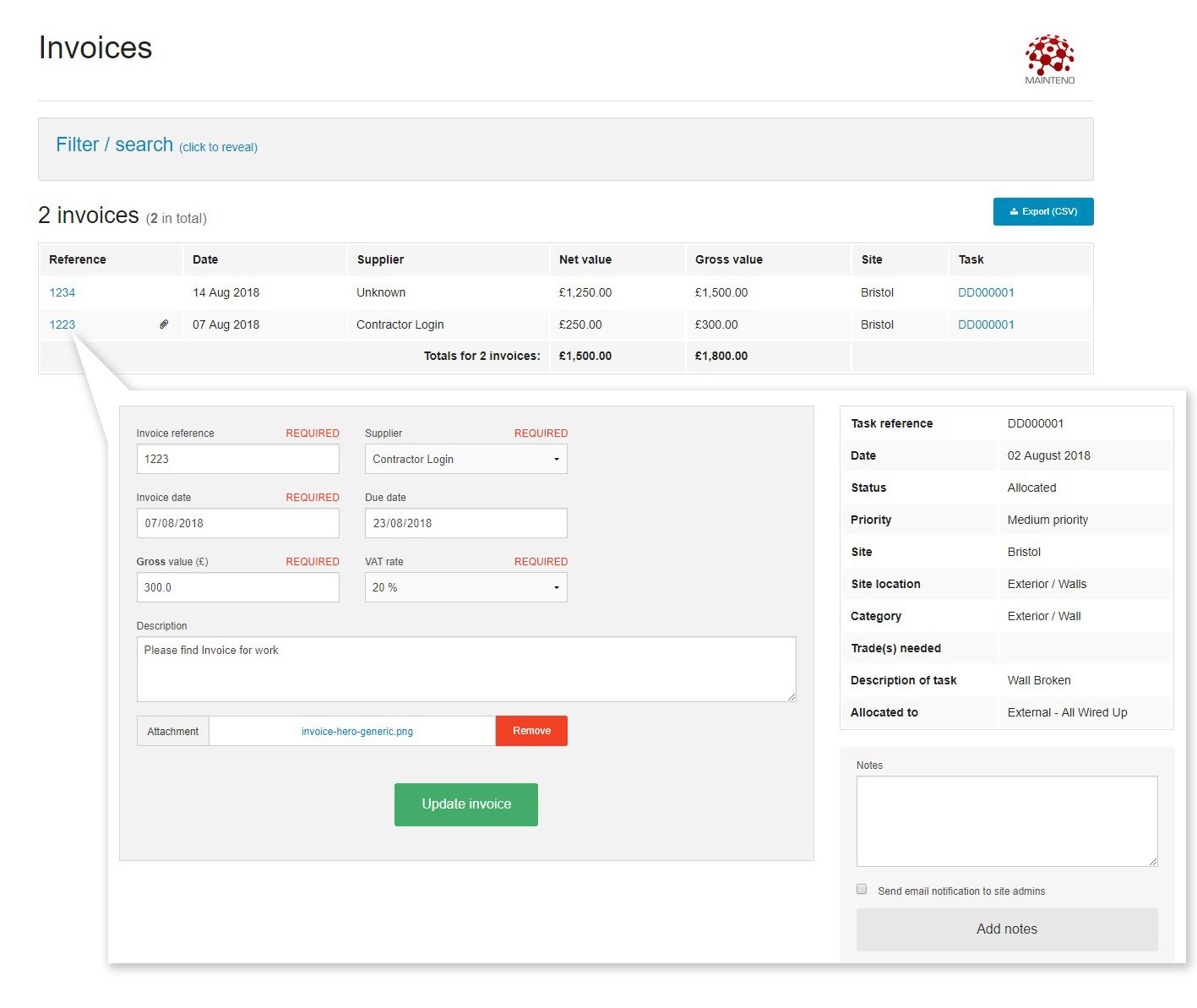 Quotes & Tendering
Managing quotes or bids from different contractors can be a long-winded business, eating into staff time. Mainteno simplifies and speeds up this process, resulting in significant improvements in efficiency.
When a maintenance job arises, Mainteno lets you effortlessly send out enquiries to multiple contractors. With a few clicks, you can filter your list of contractors and contact those most appropriate for the task. Once all the quotes are received, you can compare contractors at a glance. Then, after you've awarded the job, Mainteno will automatically send a message to the winning contractor and to those who were unsuccessful.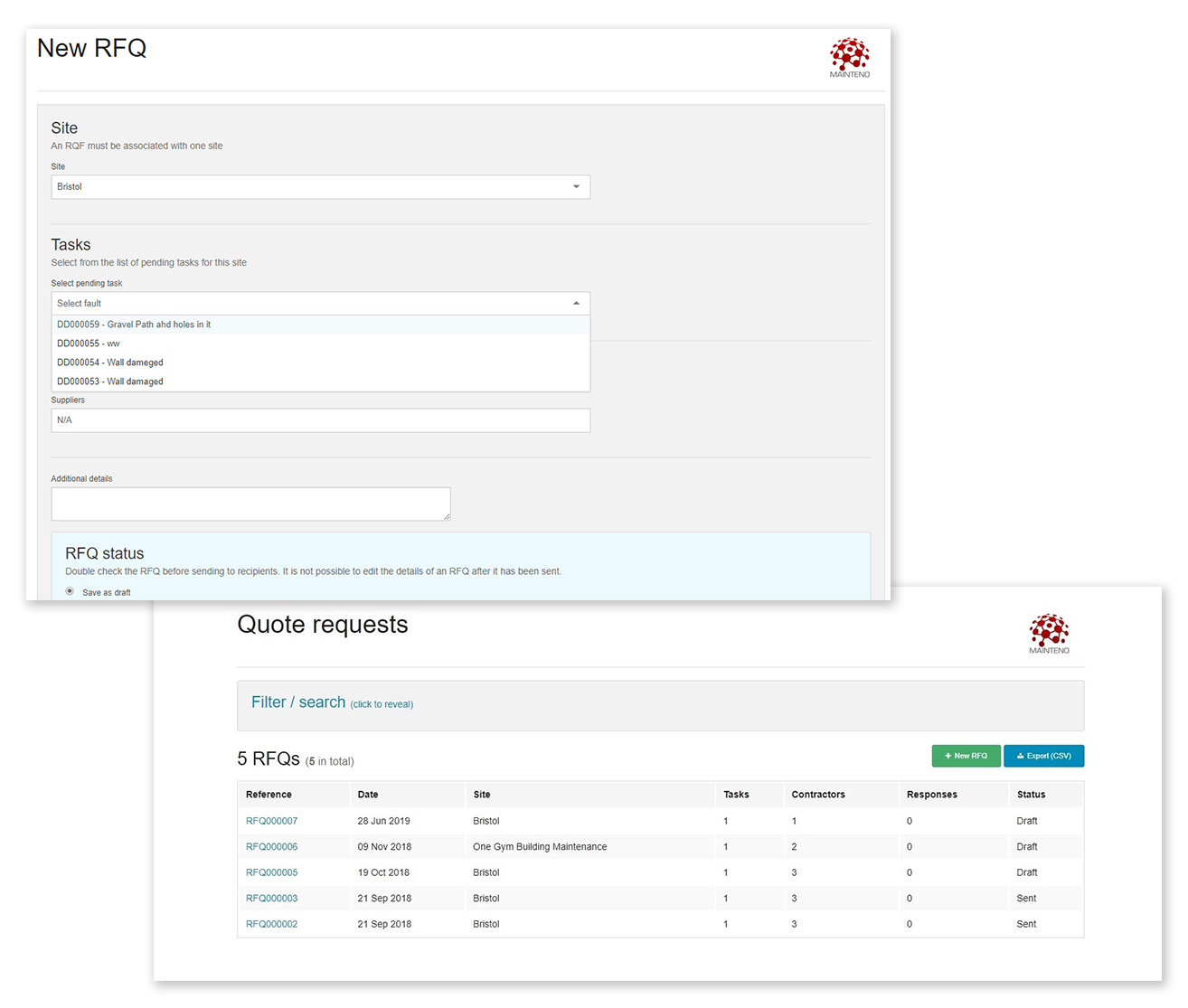 Supporting Contractors
Contractors have their own dashboard for the Mainteno system, allowing them to work more efficiently with the organisations they are servicing. Through one simple interface, contractors can:
tender for a job
accept or reject it
notify when work has begun
notify when the job has been completed
submit photographs and queries
send invoices.
By streamlining the management of tasks, Mainteno benefits both contractor and the organisation. In addition, with both parties using one integrated system, the chances of miscommunications and disputes (e.g. about when work was completed) are drastically reduced.